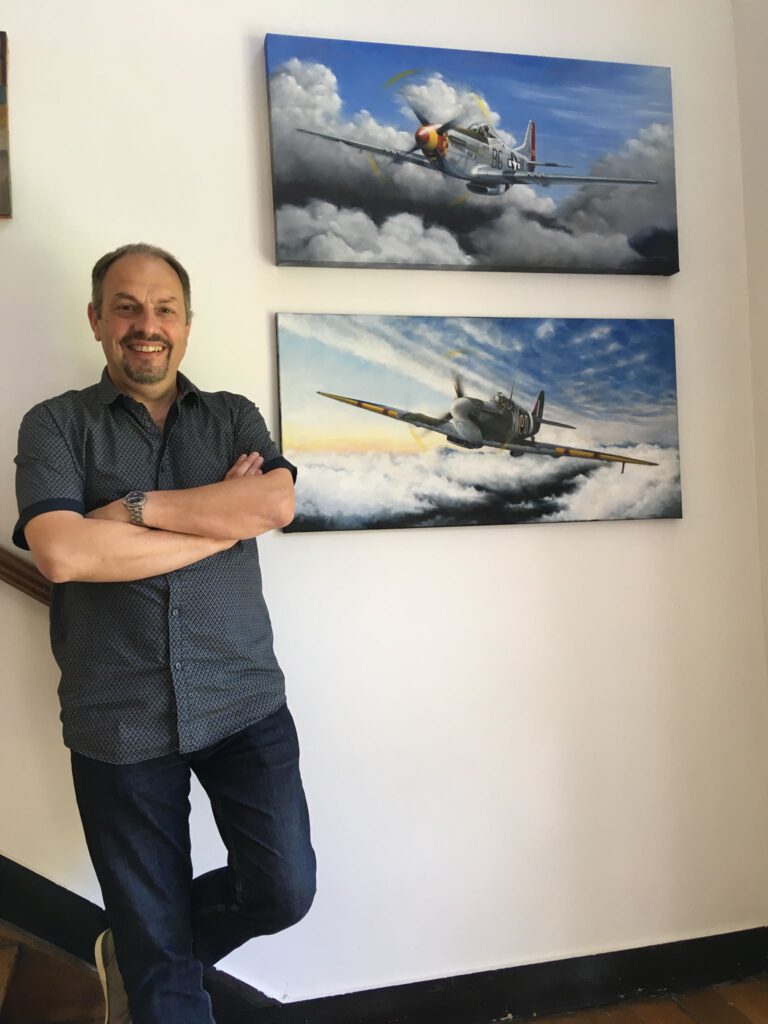 Dimitri Verdoodt was born in Mortsel, Belgium in 1962. As a kid he constantly expressed his passion for aviation by drawing aircraft, pilots and dogfights on every piece of paper he could lay his hands on, something not always appreciated by his schoolteachers.
In 1985, he could finaly start his military flying career with the 85B army aviation student pilot promotion. He flew the Siai Marchetti SF260M and the Alouette 2. In December 1986, he received his wings and joined the 17th "Griffon" Squadron Light Aviation in Werl, Germany. Seven years later, the unit turned in its old faithfull Alouette 2's, converted to the Agusta A-109BA and moved to Bierset (Liège) airfield in Belgium. Having inherited the artistic gift from his father Joseph, Dimitri, as a self taught artist, constantly tried to improve his drawing, painting and also modeller skills. Throughout his military career he has been designing unit insignia and logos, drawing in golden books and making all kinds of artwork ranging from serious stuff to caricatures of aircraft, his peers and …superiors. For several years he was selected to make the caricatures for the Belgian Air Force aviation safety calendar. Dimitri spend most of his flying career with the Griffons of the 17th, hence the name "Griffon Art". He retired in 2017 as an aviation safety officer at the Belgian Air Force Aviation Safety Directorate. During the three years after retirement he followed art courses at his local art academy of Heusden-zolder in order to improve his oil painting skills.
We hope you enjoy the visit to this website and please feel free to send your questions or requests to Dimitri via the "Contact" page.